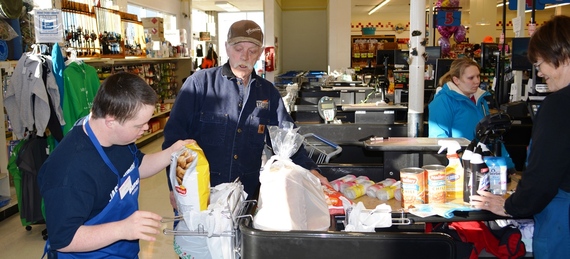 People with disabilities are "the largest untapped resource." The Americans with Disabilities Act mandates equal treatment of all job applicants. Three common concerns of businesses are recruitment , retention, return on investment. Those issues are minimized if the employee has a disability. Why?
Recruitment– Many applicants with disabilities go through vocational agencies. Staff thoroughly work with the person prior to suggesting a job.

Retention– Typically the applicant with the disability is grateful for the job and is not likely leave. This increases workforce stability and deceases costs of training someone new.
Return on investment– This is the ratio of the money earned for the company and cost of an employee. The later outweighs the former regardless of accommodations. Furthermore, if a business can not afford the alterations, there are financial incentives.
Strategies for welcoming employees with disabilities:
1) Talk with your employees during a meeting.
2) Plan a vocational rehabilitation staff to give a presentation.
3) Invite another business to discuss their hiring experiences.
4) Encourage a human resource staff to attend a disability seminar.
5) Partner with a disability agency and volunteer at one of their events.
6) Hold a fundraiser to benefit an agency where people disabilities attend.
7) Communicate within the company and in the community about policy.
3 concerns of all businesses are recruitment, retention, return on investment to learn more contact 484-425-7587.
"I worked for many years at a government agency that both served people with disabilities and hired them. Susan's insights are thoughtful, practical, necessary, and welcome." Wendy